7:23am Jun 12th 19
---
Welcome everyone!
After an intense week 1 and feedback from the players we have decided that we are merging the PC and PS4 Open Circuit together! This will result in an increased prizepool and better competition for all teams involved, at the end of the circuit season the top teams will be invited to the Amateur Circuit in which the competition will be more fierce and rewarding.
Week 2 starts on Sunday the 16th of June 2019 at 2pm AEST

For those of you just finding the circuit here are the details below!
---
The Apex Elite from week 1
Note: Leaderboards will be updated prior to Week 2 start after we merge PC/PS4
---
Circuit Format
Each division is open to all teams to sign up. Teams must consist of 3 players and may also have up to 2 subs (AUS & NZ)
Teams will queue separately online and attempt to earn as many points as possible within a 2-hour time window on a Sunday afternoon.
Teams are also required to stream every single match (atleast 1 player) in order for admins to verify results submitted.
4 Weeks of games (with a monthly final for the Top 24 teams)
How does it work?
Match days are on Sunday every week of the season. Each week, you may only play on the Sunday.
Teams will be assigned a match code just before start Time.
Upon being assigned a match code, it will be valid for the next 2 hours.
In those 2 hours you play as many matches as you possibly can and take a screenshot of each game's results with your team's code written in the in-game chat.
An example is below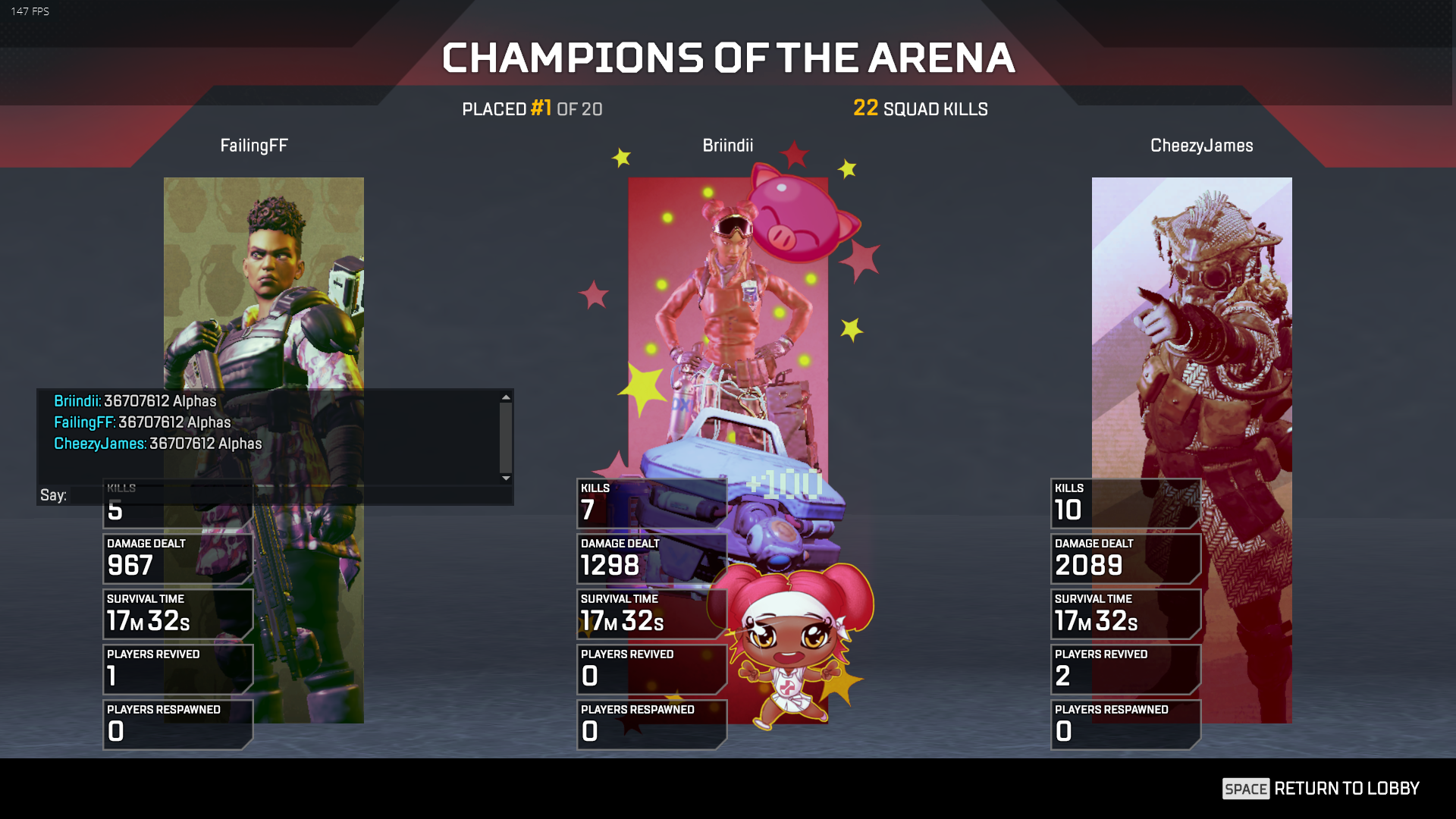 You then upload these screenshots to LetsPlayLive and you will be accredited points based on what is shown in the screenshot.
All teams in Open must have atleast 1 player streaming their team's matches for the 2 hours
This is to verify the screenshots you are using as being legitimate and to uphold the integrity of the competition.
To be clear, as there are 4 weeks in this circuit season, you will be assigned 1 code a week for a total of 4 codes. If your team cannot make it for one week on either match night, you will have an extra code for future weeks to use when you wish (by playing in two nights in another week).
Teams will earn points based on the following criteria:
1st place = +10 points
2nd place = +5 points
3rd place = +3 points
4th place = +2 points
Kills = +1 point
PC & PS4
Open: 1st $75 2nd $45 & 3rd $30 Total = $150
Amateur: 1st $300 2nd $200 & 3rd $100 Total = $600
Total
: $1,500 over June and July
Please be aware that if we receive a large amount of sign ups, the prize pools will increase and more divisions will open, this is only a bare minimum.
If you are interested in participating, please sign up here:
https://letsplay.live/games/al/open/
---
On behalf of the entire LPL Admin Team, we would like to wish every team competing the best of luck for the next coming weeks. For any questions, do not hesitate to ask by either posting in here, contacting an admin via
Support Ticket
Alternatively, you can join the community
Discord channel!
.
---
Many Thanks
LPL Admin Team